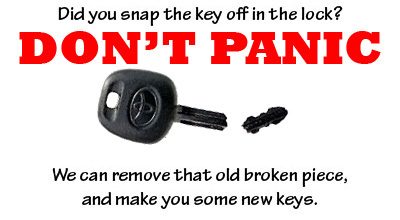 Your key is broken. Don't panic. If you freak out and start sticking things into the lock there's a good chance you may push the broken key in further, or you may damage the lock. A few good decisions now can save you time and money.
Step 1:  A few deep breaths.
This isn't the end of the world. This is just another part of your misadventures in life. You're going to get through this.  Money can fix this. Don't spend too much. Don't start blaming people for breaking your key. Your better than that.
Step 2:  Call for a quote on your broken key issue. 
Believe it or not, keys break every day. A good locksmith is trained on how to remove them. The key is finding one in your area that can help you at a reasonable price.
Ask some questions of the person on the phone. Is there a shop that I can bring the pieces of the key and have them made? What are your shop hours? If I tow my car to your shop is there a place to park? Are there additional charges if you go out to the car? Does that price include parts and labor? Are you going to act stupid and jack up the price when you get here?
Figure out what your getting into. You need the whole price over the phone. Then you can proceed. You know what to expect. You are in charge of your life. Making good, calm choices usually saves time and money. You got this.
Step 3: Get the right help for your broken key situation.
Instead of requesting mobile locksmith service out to your location, you can usually get a better price if you can bring the pieces of the key into the locksmith shop. If you bring both pieces of the broken key into the shop, we can cut a key back to factory specifications while you wait.
Sometimes that is not an option. If the key is broken in the ignition of your car, we can come out to where your car is located and take care of it on site. If it is a broken key in the door to your house or office, we can come out to your location and make a new key on site.
If you need help in San Diego, California, give us a call at 858-750-2224. We have a locksmith shop in Pacific Beach at 1478 Garnet Avenue. We have mobile locksmith service as well. We can help you find the right solution to your broken key woes.
Check out this video we made on broken keys. It describes broken keys in depth.