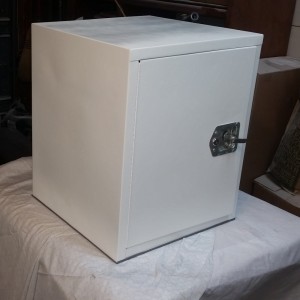 The toolbox for Big Red has been painted inside and out. It took quite a few coats of paint to get it just right, and it looks great. Big Red's toolbox is ready for installation and decals. Just in time too. Summer beach traffic has already reared it's ugly head last weekend. Some chick passed me on the shoulder of an off ramp on Sunday, while traveling at speed. She's not sneaking up the side on a red light. She's full on making her own lane while we're all driving. What's wrong with you, girl? Are you that starved for attention? People are driving crazy already. It's a free for all out here at the beaches in San Diego.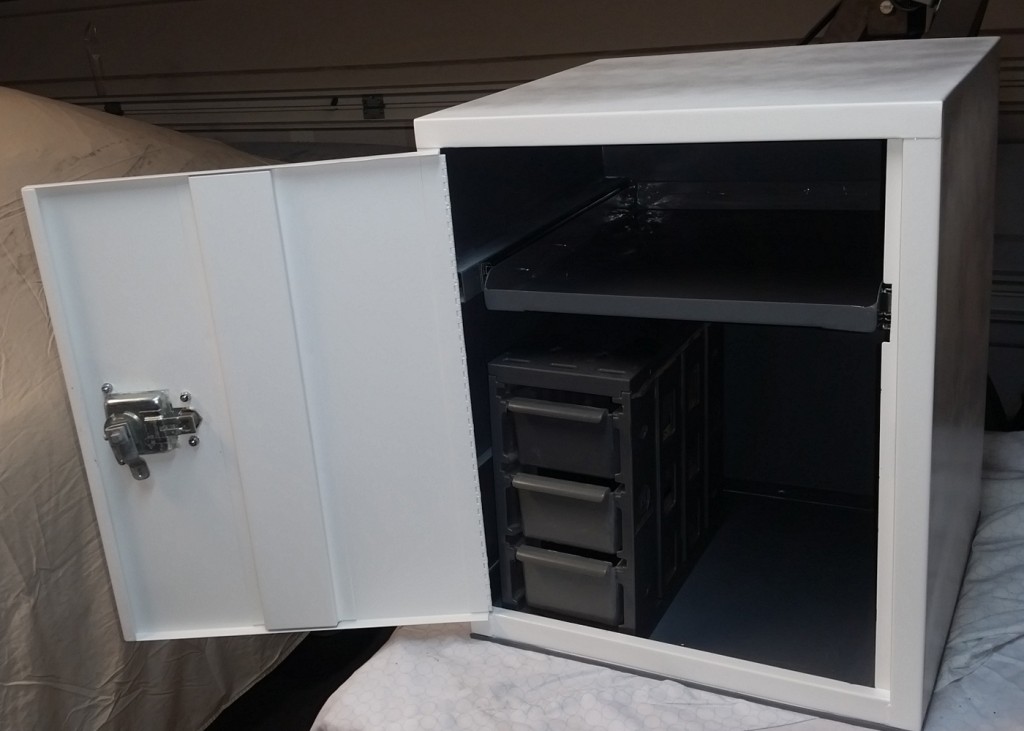 A small set of compartment drawers were also added for odds and ends. After the paint has dried for a few days, I start applying the first of the vinyl decals for our Pacific Beach Locksmith Eco Trike toolbox. I didn't have any spare decals, so there was a lot of measuring and remeasuring before I applied the graphics. I figured it took less time measuring two or three times than ordering more vinyl decals and having to go pick them up. I went slow.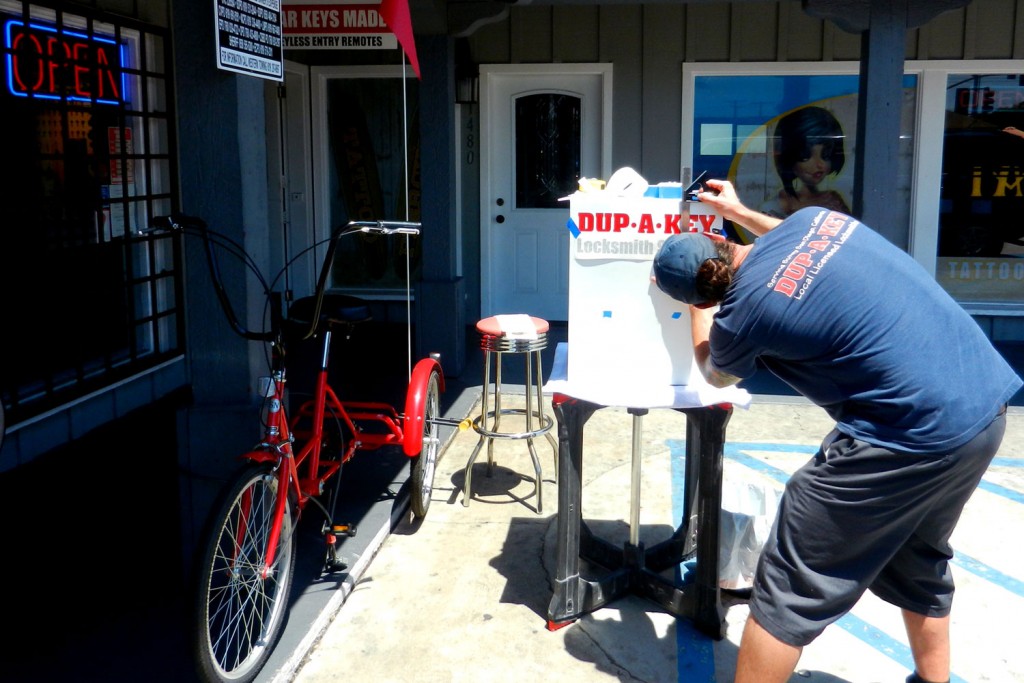 Weston has an aversion to taking pictures, so I asked Jessica to take some shots of me, so it didn't always look like I wasn't doing any work. I asked her to shoot them so you couldn't see my fat neck. It was a difficult task, but she made short work of it by shooting me from behind. It's clearly my best side.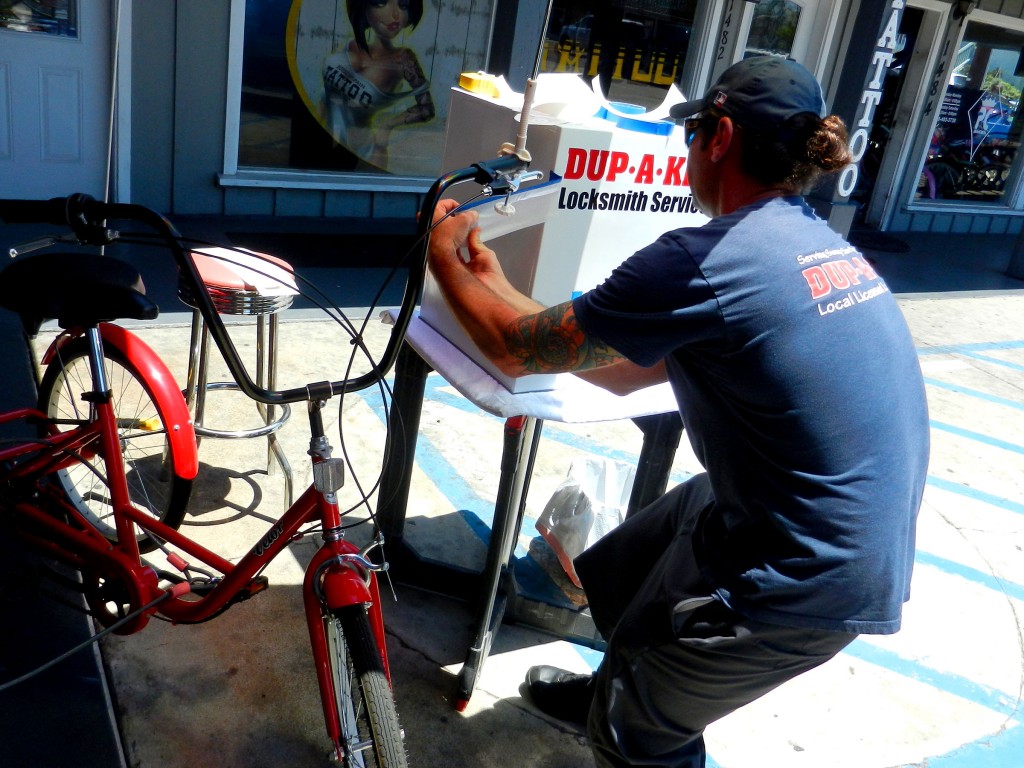 I went and grabbed the sunbrella out of the office that I had bought for the Locksmith Trike a few days ago from the thrift store.  It was cool breeze with the sunbrella. We are going to integrate a spot to attach the umbrella, if needed, when we secure the workbench top onto the toolbox. The option for a little shade while working on the bench will be a relief. I really noticed the difference. Chill.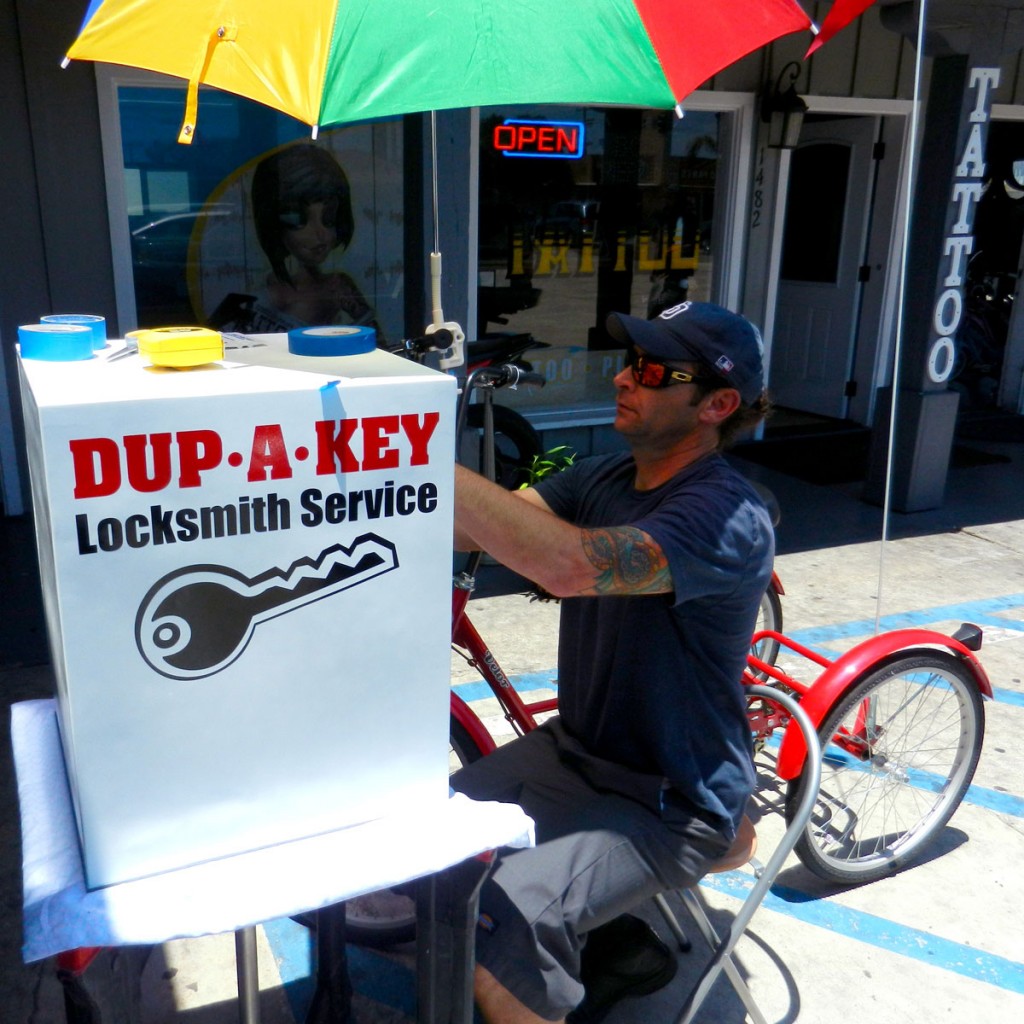 The first side of the toolbox turned out pretty good and then I really started to crank it out. Side two went on very quickly, since I had just applied the same decals on the other side. Then I moved to the door of the toolbox.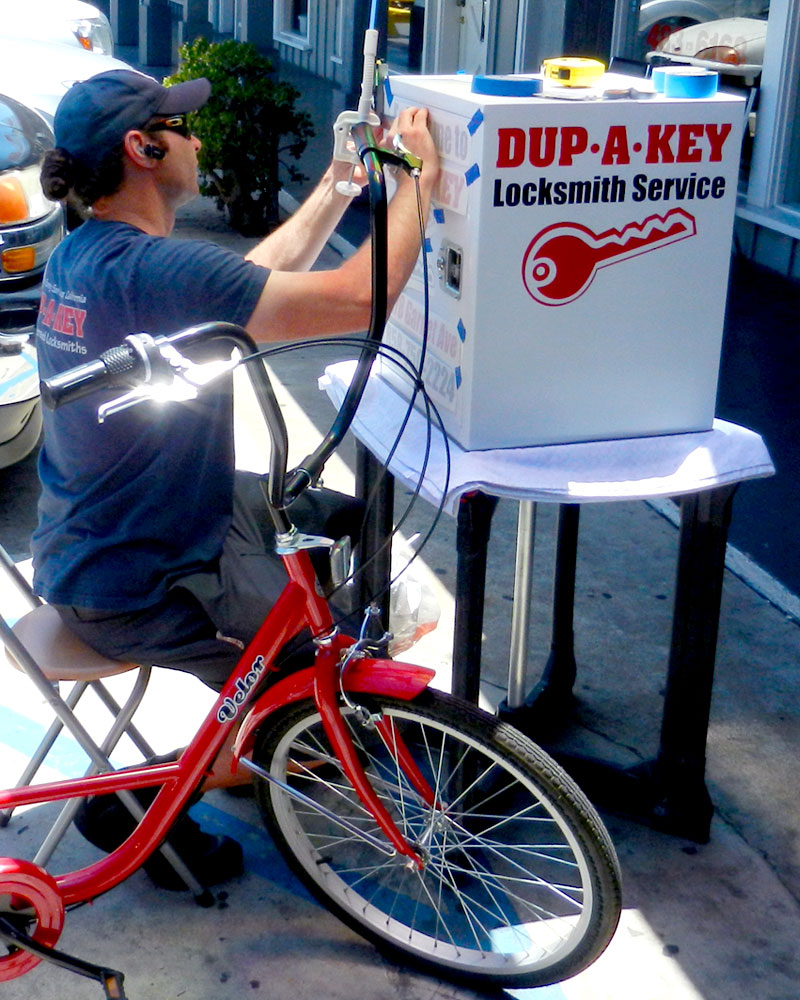 The toolbox door took a while because the spacing needed to be correct. It needed to look right; not just be measured out perfectly. There is Dan, getting some face time with the camera. Smile, Dan. Come on. One smile, Dan. Usually, he's smiling. Laughing politely at my stupid jokes.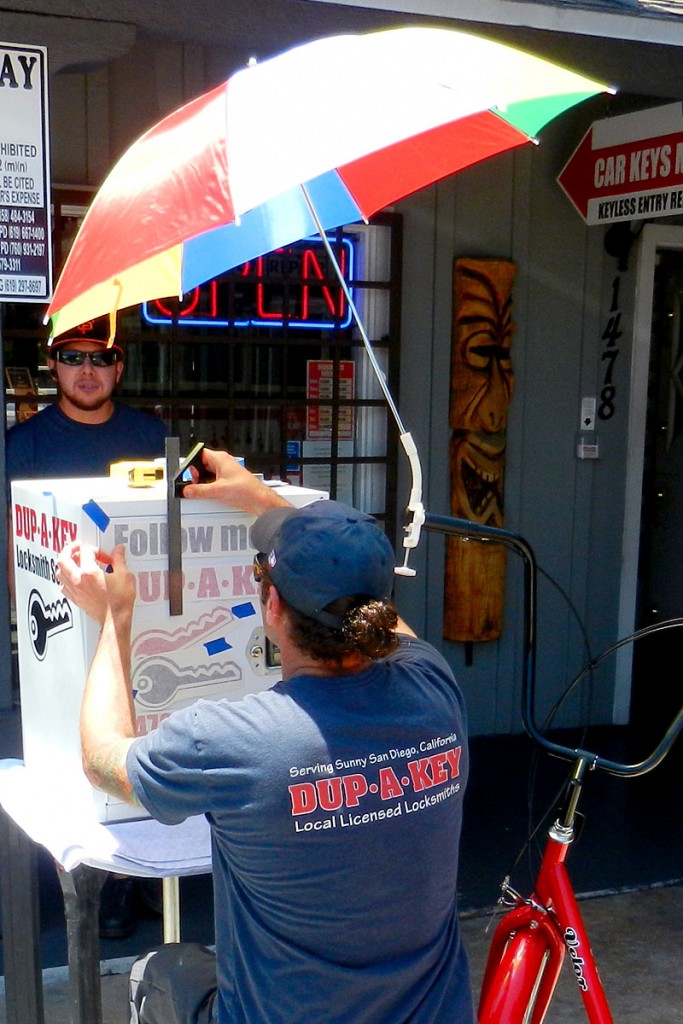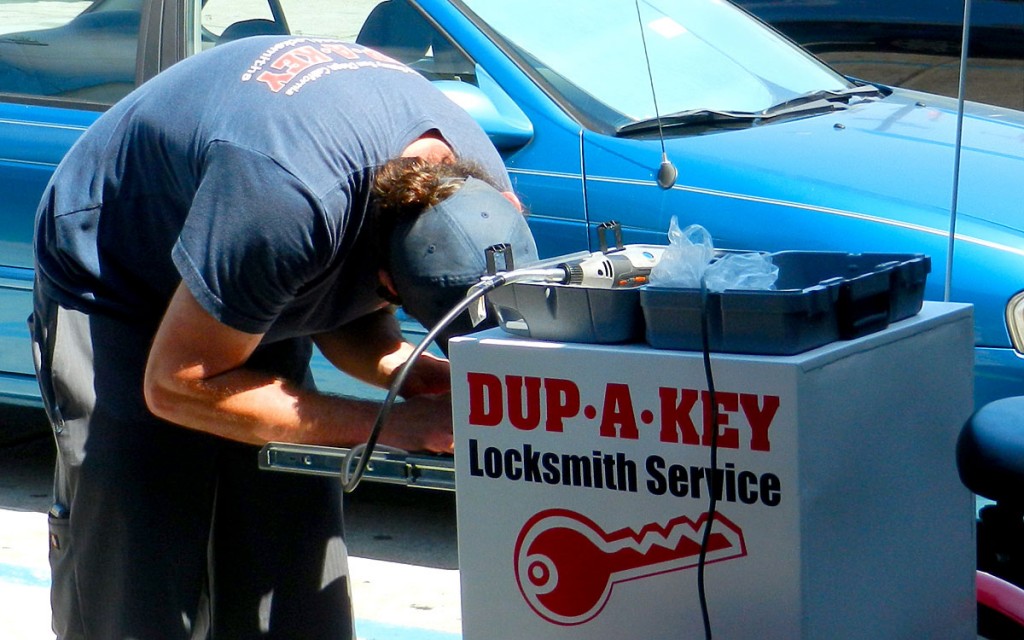 Here I am using the Dremel tool to grind down some sharp corners inside the slide out drawer. Details, details. Then we were ready for a road test. With six speeds, Big Red can haul. The trick is remembering to downshift when you've slowed down the trike, so your not crunching your way back to the lower gears to get moving again. With the extra weight in the toolbox when the tools are added, it is an important point to remember. The seat was squeaking every time you pumped the pedal and it was quite annoying. I took the seat off, tightened the springs, and sprayed silicon on the squeaky sliding parts on the bottom of the seat. It was a big improvement.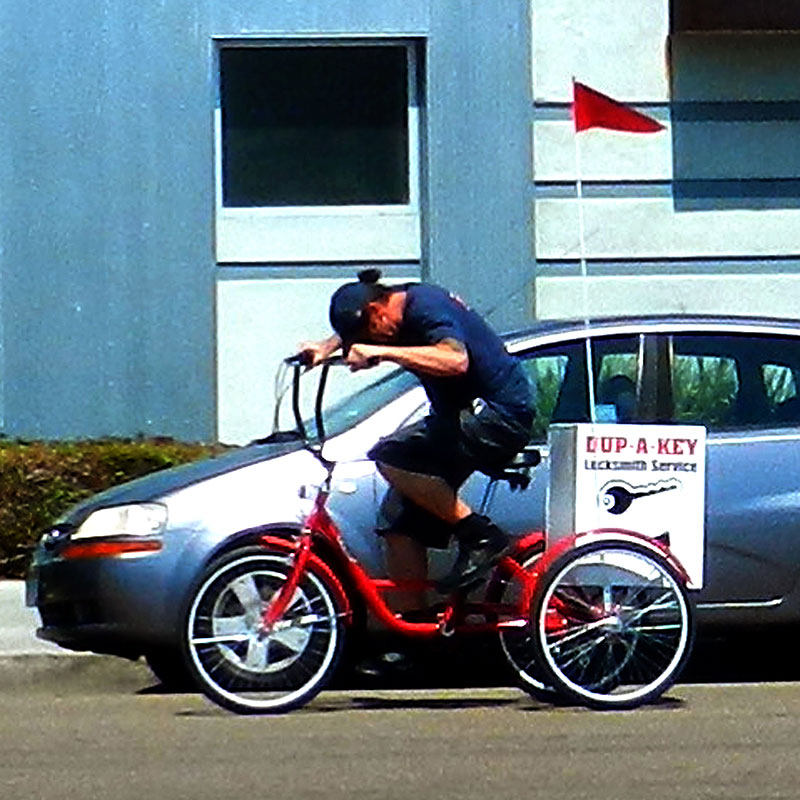 We got a lot of looks as we ran the six speed tricycle through its paces. Big Red really pops. There were amused and curious looks. Others had crazy looks, but crazy looks are pretty standard for the beach area. Some people really can't relate to the fresh hell that summer beach traffic unleashes on our Pacific Beach locksmith team. It will be sooo nice not to have to drive around in circles and scrap for every parking space, going to and coming from all the locksmith calls at the beach.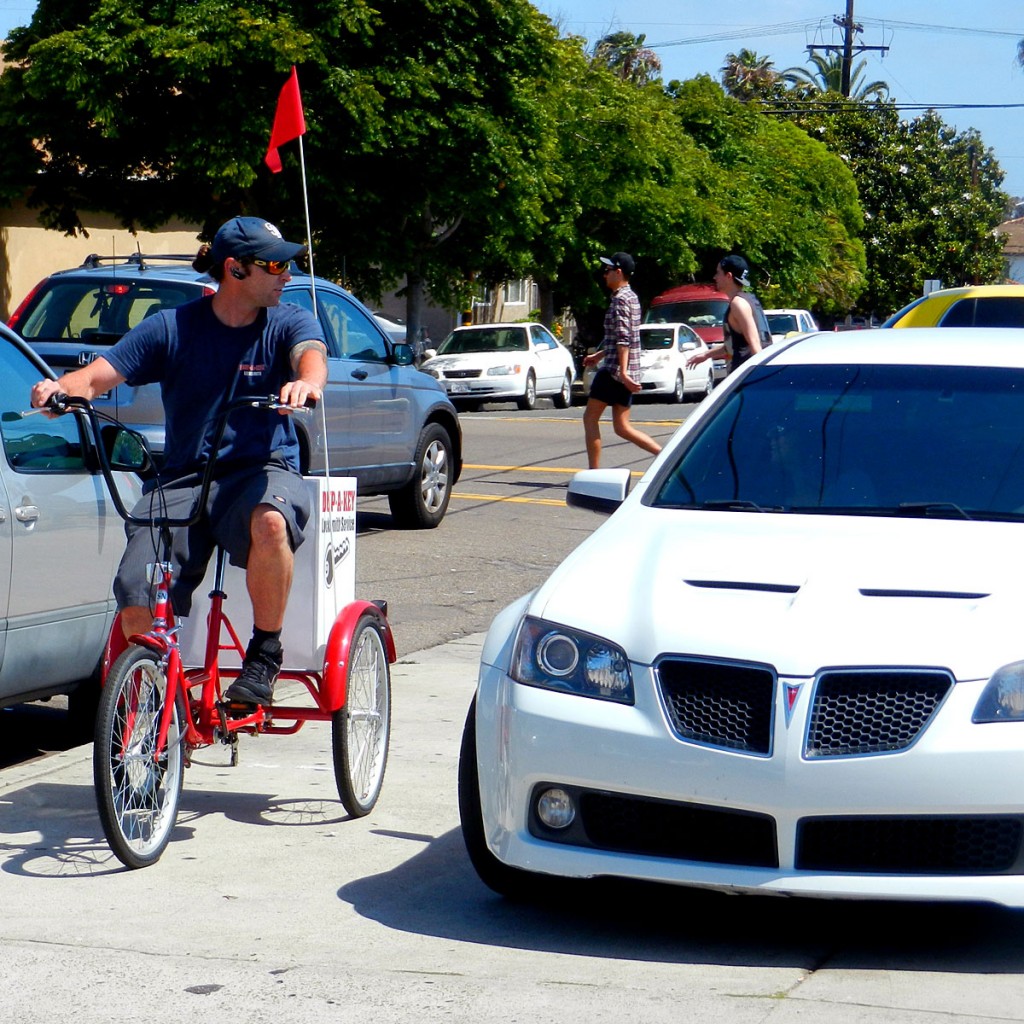 The lady in this Pontiac really likes our Locksmith Eco Trike concept. I talk to her for a bit about the parking challenges and approaching a solution.
It's hard to convey some experiences if you haven't been through them yourself. It's not just finding and securing one spot at the busy beach parking lot, relaxing at the beach, swimming, and then later you go home. We need to find 6 spots at the beach, without going swimming at all. We are fishermen and swimmers. We need the ocean. At least the ocean air on our face and in our lungs if we have to work that day. Not playing bumper cars in the San Diego streets with lost, sunburnt newbies, and fierce, frustrated locals. If you don't secure your parking spots, then you're  hanging your locksmith truck's rear end out into oncoming traffic, and gambling that your ride doesn't get crushed by a texting tourist. Gambling that the parking nazis don't ding you, while you're just trying to make a decent living, to support your family, in a congested, hectic beach destination locale. Not the best odds. It's tough, man. We will adapt. We will overcome.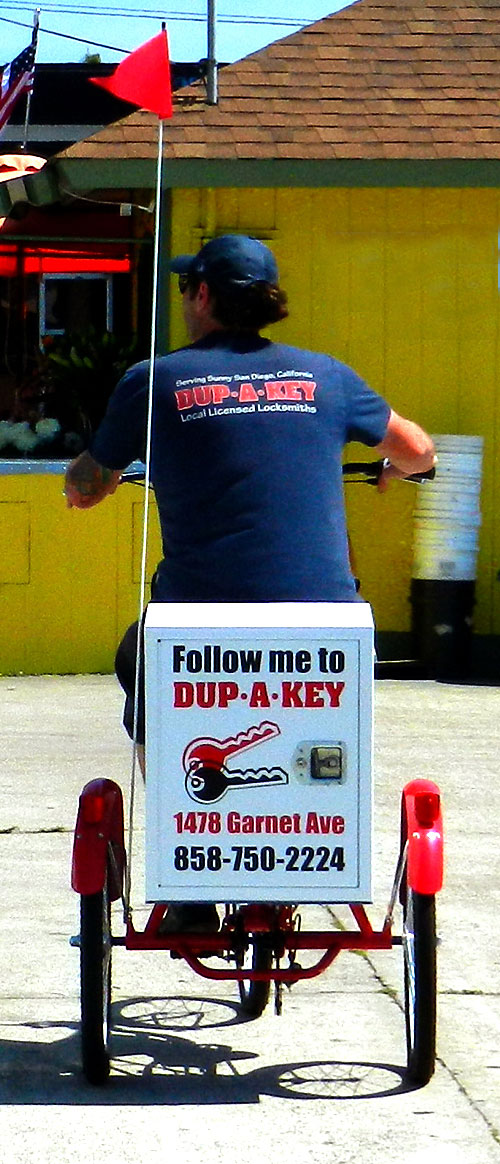 People see a funny red trike. We see the ocean breeze on our face, and a front row seat to peruse the visually stimulating beach scene, unconcerned about parking spaces, and who's in pole position at the stop light. We feel the glow of the sunshine on our skin, breathing fresh ocean air, as we get a bit of exercise. Pumping the trike pedals, gliding by the sea wall, and surveying the beach, the delights sunbathing on it, and Big Blue. We think about killing fish and swimming in the ocean; as it should be. Laid back, cruising down a quiet side street, cutting through a back alley, dodging lights and frantic drivers, feet pushing pedals towards the locksmith call, and beyond. If I don't get caught up in the beach traffic fray, I'm slated to arrive early. The customer is comforted and relieved. Now everyone is happy.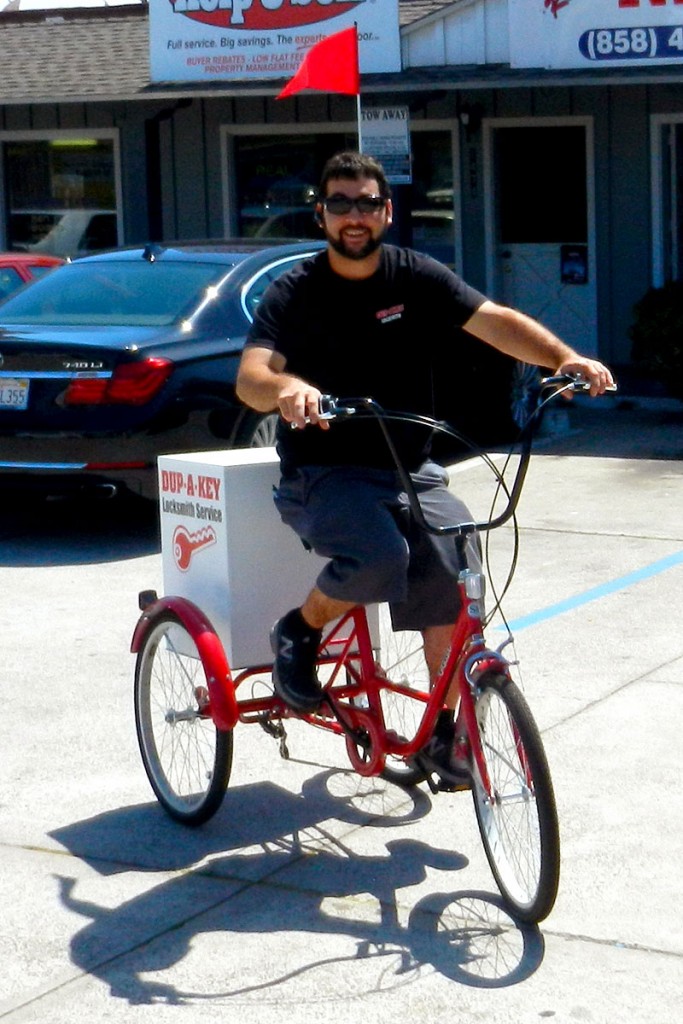 Look. Weston seems happy about it. He did a nice job building out the toolbox and installing the sliding drawer and compartment drawers. The prep before the paint is very time consuming. You need to prep correctly and apply multiple coats if you want the paint job to look great. He put the time in on the toolbox paint job and it shows.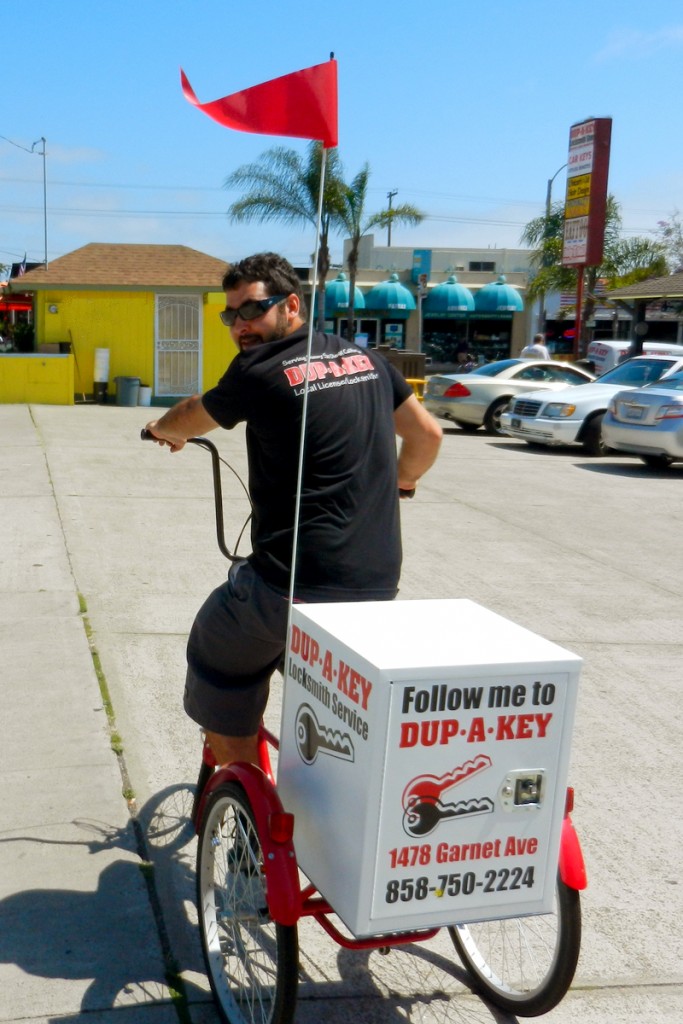 If you are going to show up on a red tricycle to a locksmith call, you better bring your A game. We needed top notch tools. We needed full size cordless power tools that are truly powerful. When the customer sees your tool bag contents, there would be no discussion of your abilities without a locksmith truck. Of course he can do the job. Look at those tools. One particular power tool set came to mind. The Makita Blue 18 Volt LXT Lithium-Ion Cordless 1/2 Inch Drill/Driver and the Makita 18 Volt LXT Lithium-Ion Cordless 4 1/2 Inch Cut-Off/Angle Grinder. These are no nonsense high quality cordless power tools. They are for real. Especially the cut-off tool. Have you ever seen such a magnificent cordless angle grinder? She's a beauty.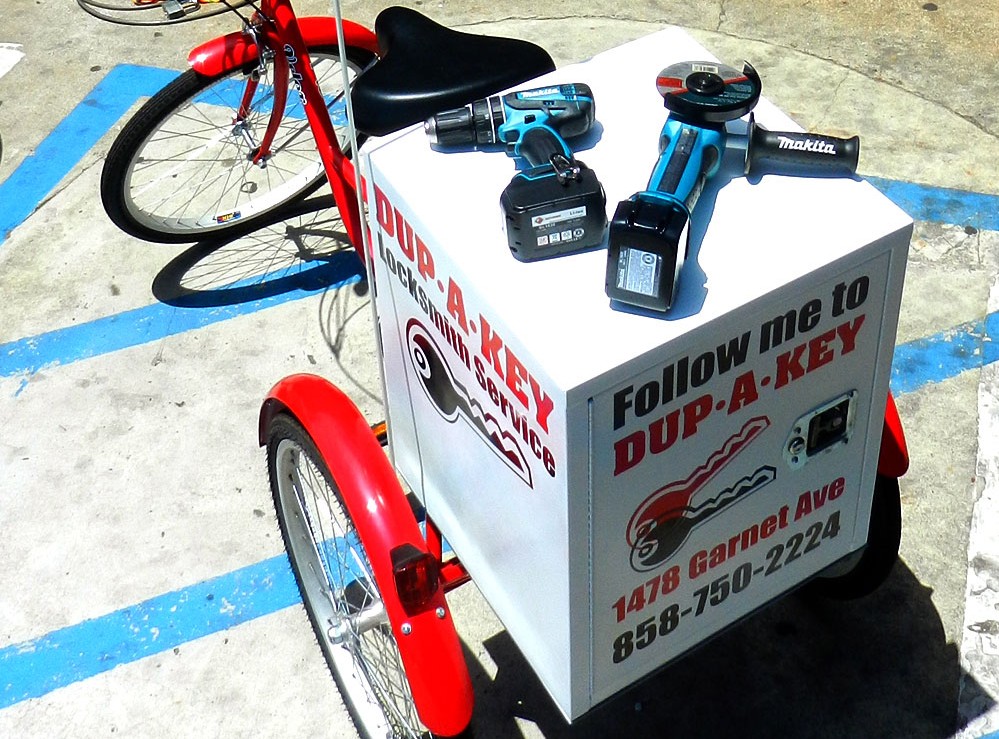 If you need beach locksmith service in San Diego, give Dup-A-Key Locksmiths a call at 858-750-2224. Swing by our Pacific Beach locksmith shop at 1478 Garnet Avenue and get your house key duplicates, car chip key copies, extra factory keyless entry car remotes, laser cut keys, and motorcycle keys made.  While waiting,  enjoy a tasty treat from Frosties, a slice and a brew from Hoboken, visit the various thrift stores and the pawn shop, and watch the people parade slowly stroll west, towards the water.
Jack Frost and I chose not to smile. Just look cool. Haines Street is in effect.